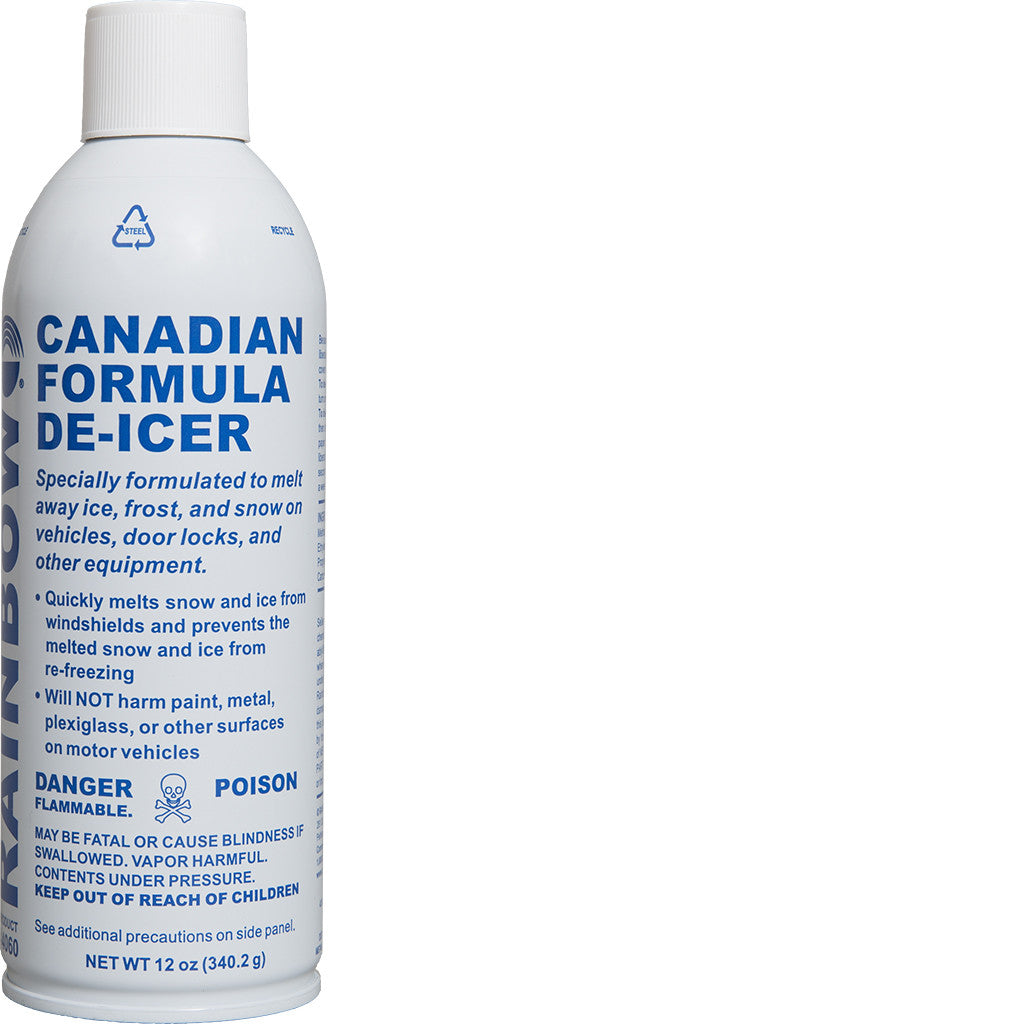 Canadian Formula De-Icer
Aerosol spray melts ice, frost, and snow from surfaces; helps prevent surface from re-freezing. Thaws locks. Does not harm plastics, paints, or metals. Clears windshield, providing safer driving conditions.
Applications
Use CANADIAN FORMULA DE-ICER to melt frost, ice, and snow from many surfaces including:
Doors
Equipment
Headlights
Locks
Mirrors
Padlocks
Power Substations
Steps
Telecom Equipment
Walkways
Windows
Windshields
Basic Information
Very effective in clearing ice, frost, and snow from windshields and mirrors on utility vehicles which provides improved visibility for safer driving conditions.
CANADIAN FORMULA DE-ICER melts frost, ice and snow on contact down to minus 60 degrees F. NO scraping. NO wasted time or heat defrosting. Just spray and go, even at extremely low temperatures.
Due to the special formula with anti-freeze, CANADIAN FORMULA DE-ICER helps prevent re-freezing.
The formula will NOT harm paint, metal, plexiglass, or other surfaces found on motor vehicles and utility equipment.
Unlike salt or granulated products, CANADIAN FORMULA DE-ICER may be used to clear frost, ice, and snow on many surfaces from steps and walkways to frozen locks and windshields. Keep it handy in the winter.
Features & Benefits
| | |
| --- | --- |
| New anti-freeze formula | Prevents melted ice, snow, and water from re-freezing on windshields or in locks |
| Special formula | Quick melting without scraping, effective to minus 60 degrees F. Will not harm paint, plexiglass, etc. |
| Aerosol packaging | Convenient and easy to use on many surfaces/applications |
Technical Highlights
Effective to minus 60 degrees F. Anti-freeze formula will not re-freeze. Safe for use on paint, metal, plexiglass, and many other surfaces.


 WARNING: This product can expose you to chemicals which are known to the State of California to cause cancer and birth defects or other reproductive harm. For more information go to www.P65Warnings.ca.gov.