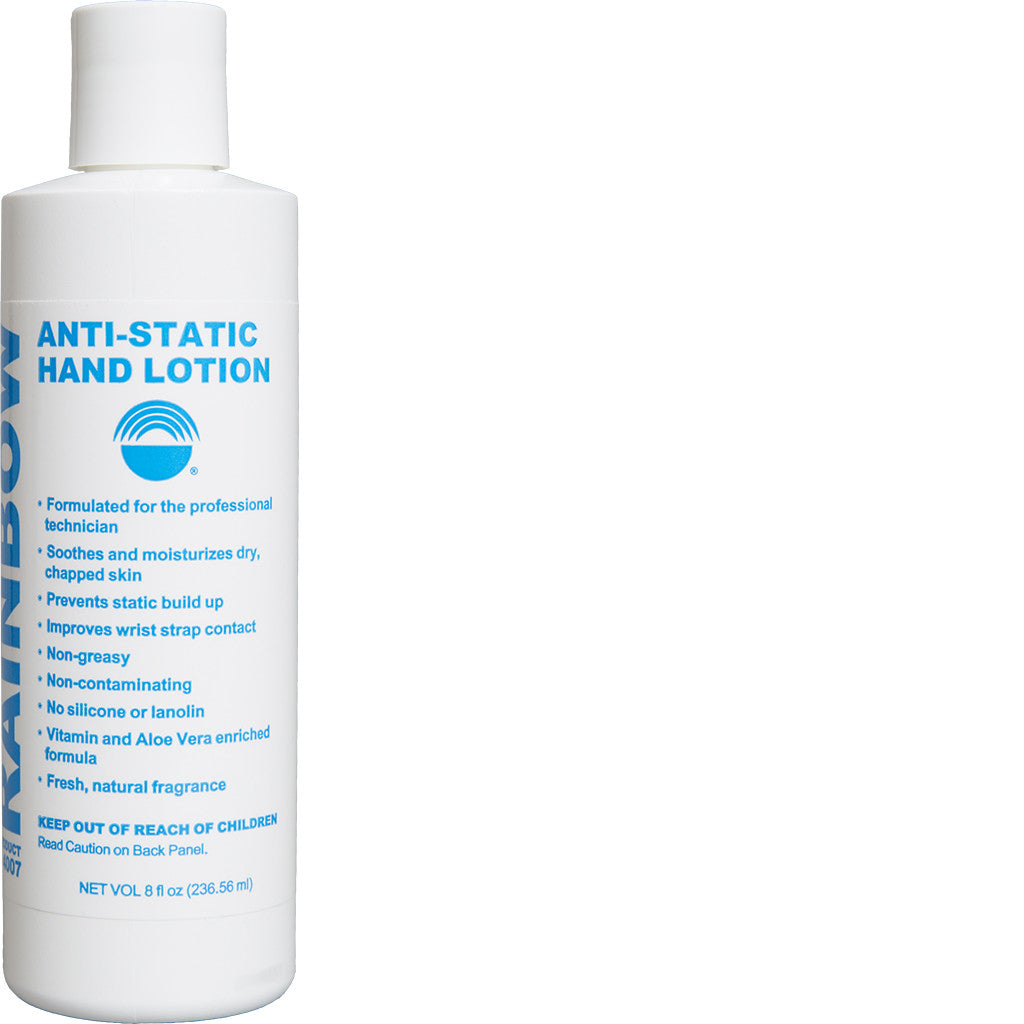 Anti-Static Hand Lotion
A non-contaminating hand lotion which contains no lanolin, silicone, or mineral oil to inhibit solder ability of printed circuits and components. Leaves no residue on fiber optic splices. Softens and moistens hands that are irritated and chapped. Use for ESD protection in the central office.

Applications
Use Anti-Static Hand Lotion for:
Fiber Optic Splicers
Central Office Technicians
Assembly Operations
Soldering and Rework Stations
Field Service
General Hand Care
Basic Information
Formulated for the professional technician, Rainbow's ANTI-STATIC HAND LOTION prevents static build-up, soothes and moisturizes dry, chapped skin and is non-contaminating to sensitive electronic equipment and circuitry.
ANTI-STATIC HAND LOTION does not contain contaminants such as silicone, lanolin, squalene, or similar materials found in conventional hand lotions.
ANTI-STATIC HAND LOTION has a fresh natural fragrance and is enriched with natural ingredients including Aloe Vera, vitamins A and E and a special blend of moisturizers that penetrate rapidly leaving the skin soft and non-greasy.
Features & Benefits
| | |
| --- | --- |
| Contains Aloe Vera, Vitamins A and E | Soothes and moisturizes dry, chapped hands |
| Non-greasy and non-contaminating | Will NOT harm equipment or wrist straps |
Technical Highlights
Flash Point: None Non-Exempt Volatile Organic Compound (VOC): None Non-Greasy Non-Contaminating.