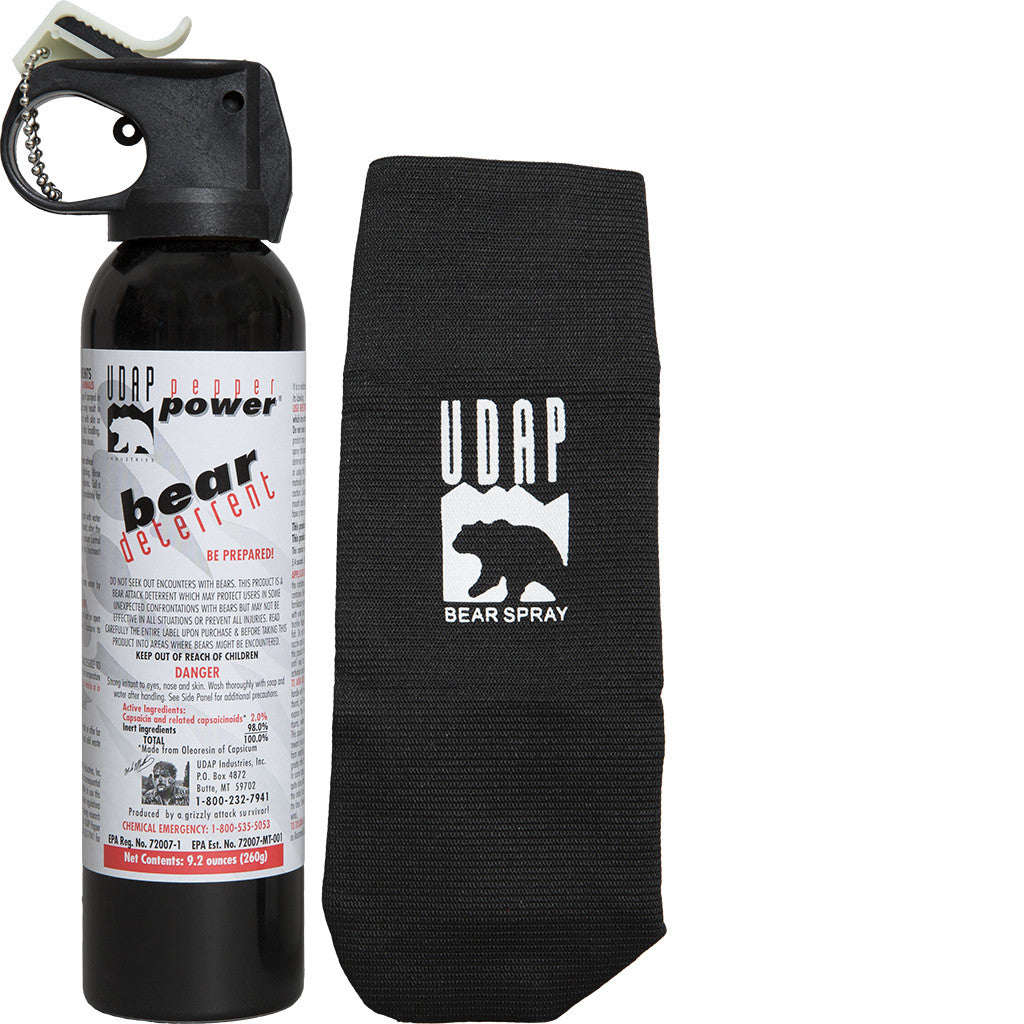 Bear Spray
UDAP provides more bear deterrent sizes and accessories than any of their competition. Registered with the EPA, this product meets all the guidelines to be an official bear spray product. UDAP products are formulated and filled in the USA. UDAP knows the importance of bear safety, bear spray training and information. This is why they include a bear safety tips booklet with every purchase of bear spray.
Bear deterrent or bear pepper spray is designed to be sprayed in the face of a charging bear. It does not matter if the bear is a grizzly (also known as a brown bear or Kodiak), black, or polar bear. Bear deterrent spray works on all species of bear. Similar to the use of pepper spray for humans, bear pepper spray affects the eyes, nose and throat of the bear. However, unlike personal pepper spray, bear spray is specifically designed for this large predator. Bear deterrent is much stronger than personal protection sprays and has a much higher volume of spray when released. Bear deterrent sprays a further distance (30-35 feet) than small units designed for self defense and sprays in a fog pattern instead of a stream, foam or gel. A fog pattern pepper spray is much more effective when stopping an animal because of the fogs ability to be sucked into the airway of the breathing animal. The can has a glow-in-the-dark safety clip that prevents it from accidentally discharging.
Size: 9.3" x 2"
Net Contents: 9.2 ounces (260g)
Spray Pattern: 30 Foot Fog
Formula: 2.0% Major Capsaicinoids (MC)
Expiration Date: 3 years
(Note: This is the Hottest the EPA allows bear spray to be made.)
Continuous Spray Time: Approximately 5.4 Seconds
(Higher volume spray reaches the target faster!)
The #15 Magnum Bear Spray is a little larger than the #12. This bear spray offers the same powerful blast with a little more product. #15HP Hip Holster Combo. The best in its class!