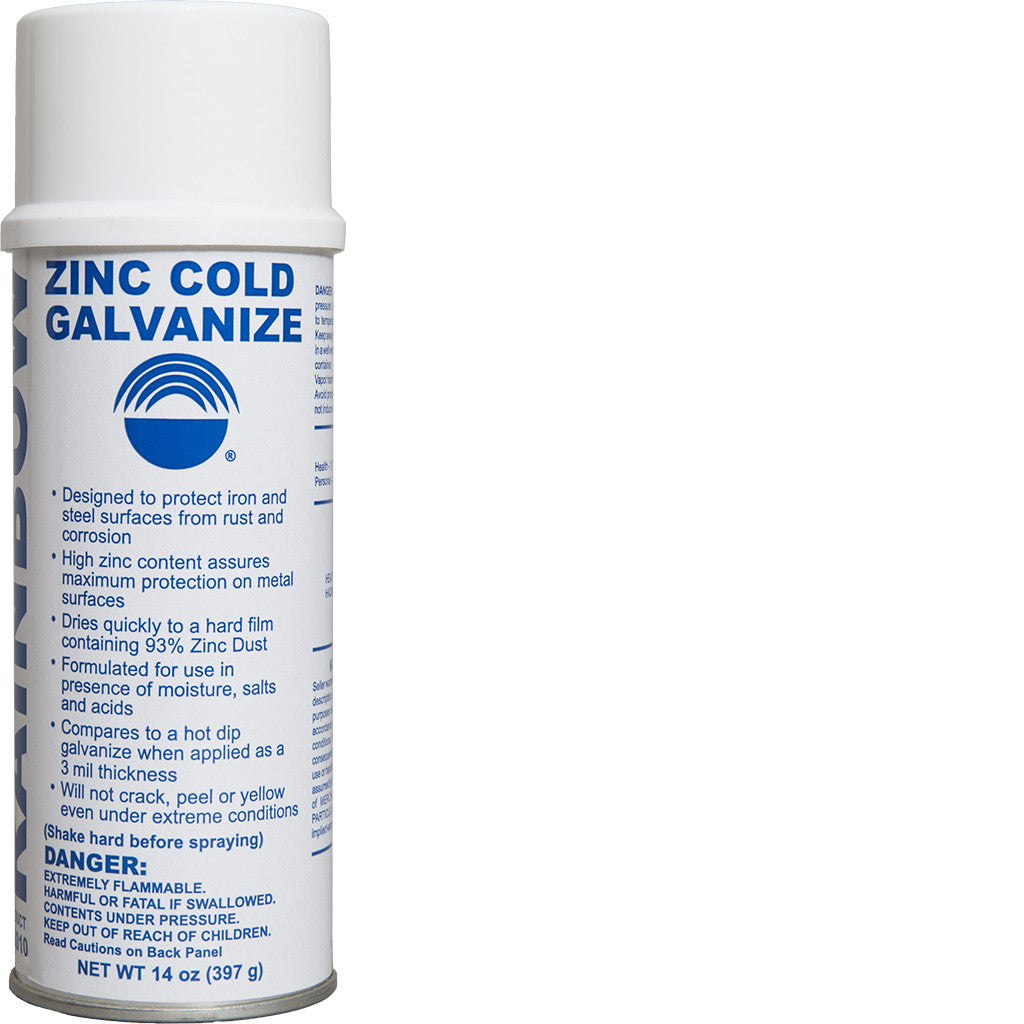 Zinc Cold Galvanize
A high-performance 93% zinc-rich coating that electrochemically bonds to ferrous metal to provide true galvanic protection. The sacrificial coating actively fights rust and corrosion with the flexible zinc film. Fast-drying, sag-free spray. Excellent touch-up for damaged galvanic coatings.
Applications
Use ZINC COLD GALVANIZE to protect a wide range of ferrous metal equipment including:
Underground transmission equipment
Power generation equipment
Telecommunications equipment
Transformers
Street lights
Panel boxes
Signs and posts
Welding equipment
Substation equipment
Railroad equipment
Galvanized surfaces
Basic Information
Give ferrous materials true galvanic protection with this zinc-rich coating. ZINC COLD GALVANIZE protects the base metal even when scratched, nicked or abraded.
ZINC COLD GALVANIZE is not a paint. It is a sacrificial coating that electrochemically bonds to ferrous metals to actively fight rust and corrosion with a flexible film of 93% pure zinc.
This fast drying, sag free spray also offers an excellent touch-up for damaged galvanized coatings. It provides the protection of hot-dip galvanization with the convenience of on-site application.
Complete coverage with one coat, dries to touch in 25 minutes, dries to handle in 1 hour. Superior appearance and color retention, ideal for small touch-up jobs, painting irregular shapes or covering hard-to-reach areas.
Paint Zinc Cold Galvanized aerosol on galvanized surfaces after completing cadwelds.
Features & Benefits
| | |
| --- | --- |
| Electrochemically bonds to ferrous metals | Galvanic action protects even in areas damaged by nicks or scratches |
| Aerosol spray formula | Easy and convenient to use, yet offers maximum protection |
Technical Highlights
ZINC COLD GALVANIZE contains no methylene chloride and meets California VOC requirements. It also meets MIL-P-21035, MIL-D-46105 and MIL-T-26433 specifications.
 WARNING: This product can expose you to chemicals which are known to the State of California to cause cancer and birth defects or other reproductive harm. For more information go to www.P65Warnings.ca.gov.