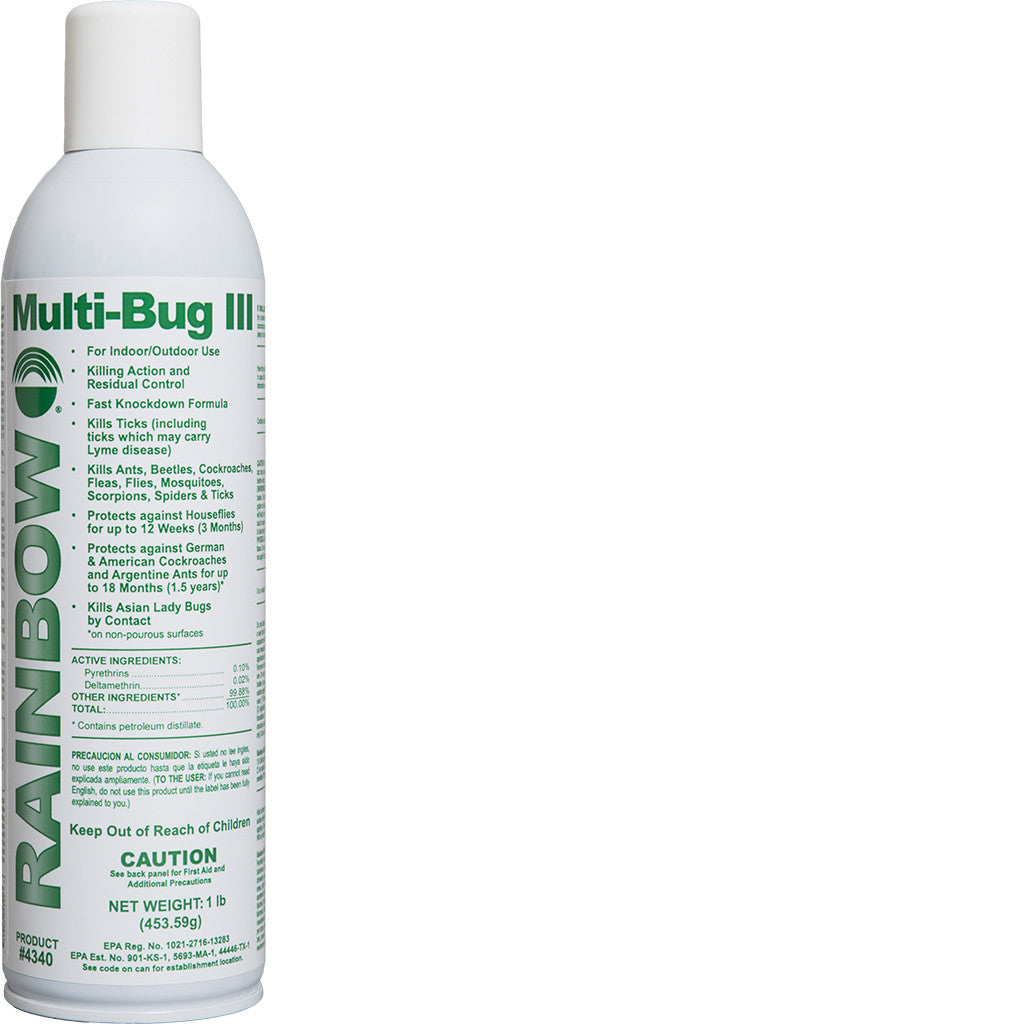 Multi-Bug III
MULTI-BUG III contains very effective active ingredients that provide immediate knockdown and a long-lasting residual insecticide for up to four weeks.
Applications
Use MULTI-BUG III for broad spectrum surface insect control on these listed pests:
Ants
Bees
Carpenter Ants
Centipedes
Cockroaches
Crickets
Firebrats
Fleas
Flies
Gnats
Grain Beetles
Ground Beetles
Mole Crickets
Moths
Pillbugs
Scorpions
Silverfish
Sowbugs
Spiders
Ticks
Basic Information
MULTI-BUG III kills existing infestation and prevents reinfestation in many areas including manholes, hand holes, storerooms, and workrooms.
This effective water-based formula* will not damage carpets, rugs, floors, or baseboards. It is safe for indoor and outdoor applications.
Close range, fine mist, surface spray.
MULTI-BUG III provides a insect-free environment and reduces lost time caused by injuries and accidents.
* Do not spray in or on electrical equipment.
Features & Benefits
| | |
| --- | --- |
| Controls a wide array of crawling, stinging, biting, and disease-carrying insects | Eliminates need for multiple products. Kills existing infestations and prevents reinfestation |
| Water-based formula | SAFE for use indoors or outdoors with no oily residue or odor |
| Non-staining formula | Will NOT damage rugs, carpets, floors, or baseboards |
| Long-lasting residual insecticide | Keeps on killing insects up to four weeks after spraying |

Technical Highlights
The active ingredients Pyrethrins and Deltamethrin kills bugs on contact and provides residual protection up to four weeks. EPA registered proprietary formula. Does not contain hazardous inert ingredients. Safe for use per label instructions.