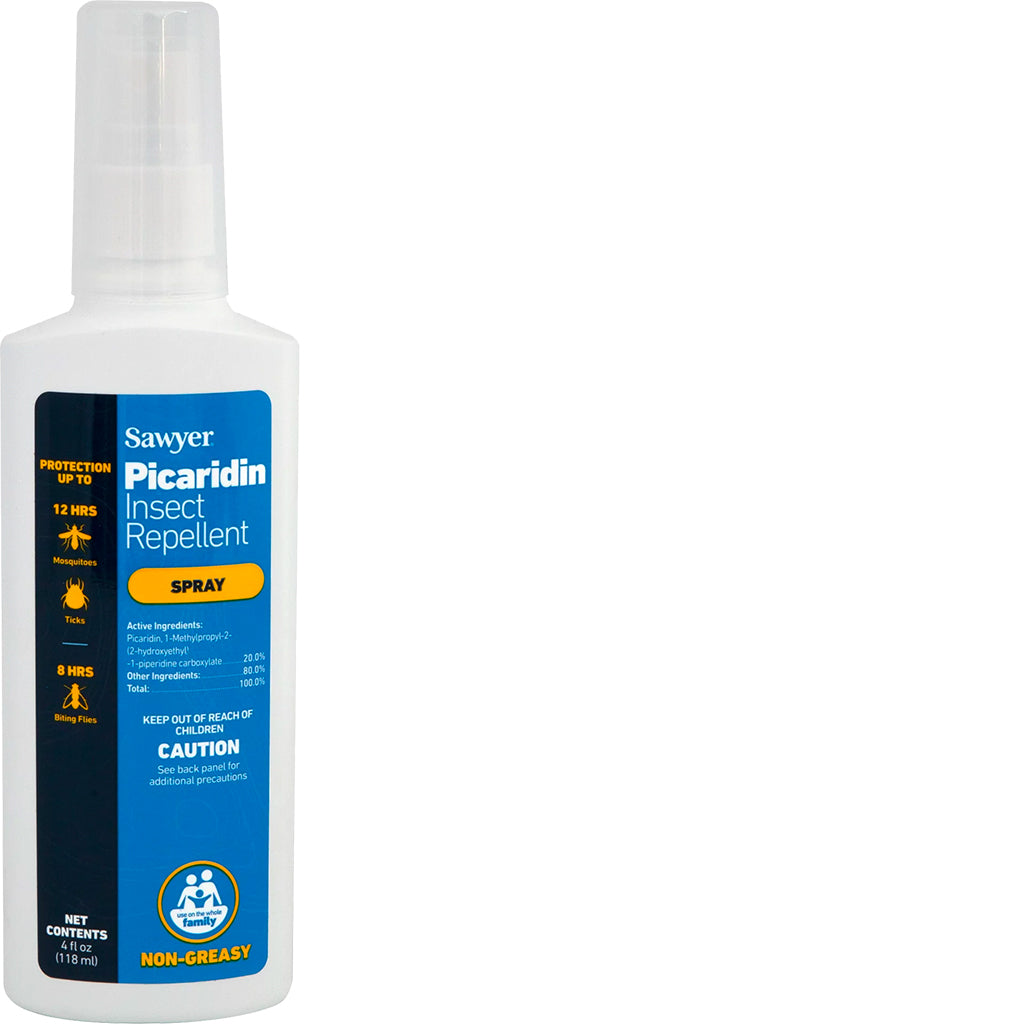 Picaridin Insect Repellent
Highly effective at deterring a wide array of insects including mosquitoes and ticks, Sawyer's 20% Picaridin insect repellent SP544 is more effective at repelling biting flies than DEET. Safe for use on the whole family, the non-greasy Picaridin offers all day protection, has a pleasant low citrus odor, and won't damage plastics or synthetic coatings.
Reviewed by Consumer Reports as "Fisherman's Formula" in its list of safe and effective insect repellents (February 2016), Picaridin is effective against the Yellow Fever Mosquito, which can transmit the Zika Virus.
Maximize protection from mosquitoes and ticks by combining Picaridin with Sawyer's Permethrin insect repellent for clothing and gear (4504). Learn more about this highly rated combination.
Up to 12 Hours of Protection!
Derived from Piperine in pepper plants, Sawyer Picaridin is a synthetic replica of a natural solution that has proved to be a very potent formula on mosquitoes, ticks, and flies while still being family friendly, gear safe, and very comfortable to wear on your skin.
Picaridin spray is effective for up to 12 hours against mosquitoes and ticks and up to 8 hours of protection against biting flies, gnats, chiggers, and sand flies.
This non-greasy spray has a pleasant low odor that evaporates when dry.
Applications
Picaridin is safe for use on:
Skin

Clothing

Backpacks

Synthetic Fabrics & Coatings

Watches

Sunglasses

Plastics
Features & Benefits
Family Friendly – An effective alternative to DEET that's great for the whole family, Sawyer Picaridin is also safe for use during pregnancy. It's considered to be the repellent of first choice by the Public Health Agency of Canada's Canadian Advisory Committee on Tropical Medicine and Travel for travelers 6 months to 12 years of age.
The New Standard – Sawyer Picaridin is available in a convenient 4 ounce pump spray bottle.